Climactic: consisting of, involving, or causing a climax.
Climax: the highest or most intense point in the development or resolution of something.
Climatic: of or relating to climate.
Climate: the composite or generally prevailing weather conditions of a region.
Disrupt: to cause (something) to be unable to continue in the normal way.
ACD – Anthropogenic Climate Disruption: Climatic Disruption resulting from human activity; potentially Climactic.
These carefully rendered and ordered definitions were included here for the benefit of any Republican or Tea Party (Congressional Sens-Reps or their voters) that might happen to pass by — unlikely I know, but I always try to be fair and helpful when possible. [See also: The cult of ignorance in the United States: Anti-intellectualism and the "dumbing down" of America].
That said, a closer and finely detailed examination of Anthropogenic Climate Disruption data becomes more revealing with virtually every passing month.
1. From February 2014: The March of Anthropogenic Climate Disruption by Dahr Jamal begins by pointing out that 2013
. . . marked the 37th consecutive year of above-average global temperature, according to data from NASA.

The signs of advanced Anthropogenic Climate Disruption (ACD) are all around us, becoming ever more visible by the day.

At least for those choosing to pay attention.
I'll not try to summarize Jamal's paper here — much much more can/will be gained via a careful read. It is, though, an excellent summary of the consequences of ACD already in place back then.
2. Next, more than two years later (just this week, in fact) there's this: Atmospheric Carbon Dioxide Concentration Has Passed the Point of No Return, also by Dahr Jamal. It's a lengthy essay that covers the gamut of climate change impacts visible today, and most certainly is well worth close and serious examination. Here is a brief quote that sets the stage:
Climate disruption only continues to speed up.

NASA recently released data showing that the planet has just seen seven straight months of not just record-breaking, but record-shattering heat. It is clear, through the space agency's data, that this year we are already well on track to see what will likely be the largest increase in global temperature a single year has ever seen.

The NASA data also show that April was the hottest April ever recorded, as well as the fact that it crushed the previous April record by the largest margin of increase ever recorded.

That makes it three months in a row that the monthly record has been broken, and easily at that, by the largest margin ever. When record-smashing months started in February, it was then that scientists began talking about a "climate emergency," and since then our situation has only escalated.
The essay is detailed, lengthy, and filled with links to supporting data sources that demonstrate beyond all doubt that these indeed are dire times, and that it may, in fact, already be too late for there to be any hope of turning things around. The sole (slightly) positive comment in the entire of the essay is this: "Recent polling shows that now half of all conservatives in the United States believe that ACD is real, which is an increase of 19 percent over the last two years." Wow. Is that great news or what. Doesn't include any conservatives I know, but any port in a storm is welcome.
Following is a graph, prepared by Ed Hawkins, that shows monthly global temperature changes since 1850:
It's hard not to notice the jump, so far, in 2016 temperatures; the times, they really are a-changin', or so it would appear to the trained eye.
But not all eyes are trained. On the other side of the coin live the deniers. I won't go into extensive detail, just quote a couple of their most egregious fools to demonstrate just exactly how far-fetched the wingnut reality actually is. First, courtesy of Fox News, Jesse Watters explains his concern that public schools in Portland Oregon are no longer going to "teach" the nonsense that supports ACD denial:
One city school district is closing the book on any materials in the classroom that question or deny climate change. The board in Portland, Oregon unanimously approving a resolution that calls for removing books and course materials that suggests climate change does not exist or that people are not at fault for it. . . . Aren't students supposed to learn how to ask questions? And now we can't read a book that ask questions.

[. . .]

So getting out of the ice age, how did the Earth warm up after the ice age? There were no humans there with cars and factories. I mean, how did things warm up? These are questions that only I have the answer to. I should be teaching these courses. These aren't that hard. It gets hot, it gets cold, this spring has been freezing. It's not getting warmer, it seems like it's getting colder. Am I wrong?
Yes, Watters, you're wrong. Of course you're wrong. You're very very very wrong. But that, of course, is nothing new or unexpected.
Next, a word or two from that tremendously gifted master of everything, our massively educated and schemingly beautiful billionaire Republican, our loved-by-millions-and-soon-to-be-tremendous-President, Donald Trump.
"Any and all weather events are used by the GLOBAL WARMING HOAXSTERS to justify higher taxes to save our planet! They don't believe it $$$$!"

This very expensive GLOBAL WARMING bullshit has got to stop. Our planet is freezing, record low temps,and our GW scientists are stuck in ice.

"I think that climate change is just a very, very expensive form of tax. A lot of people are making a lot of money. I know much about climate change. I've received many environmental awards. And I often joke that this is done for the benefit of China — obviously I joke — but this done for the benefit of China."
Meanwhile, back in the real world,
March 2016 temperature smashes 100-year global record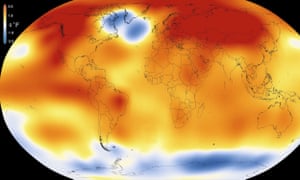 ▲Illustration shows that 2015 was the hottest year since 1880. (AFP/Getty Images)▲
The global temperature in March (2016) shattered a century-long record and by the greatest margin yet seen for any month. . . . Compared with the 20th-century average, March was 1.07C hotter across the globe, while February was 1.04C higher, and the trend continued in April. Apparently the overwhelming mass of global data has proven, beyond the barest shadow of a doubt, that ACD is, in fact, a FACT.
Or, as Trump put it,
"Global warming is based on faulty science and manipulated data
which is proven by the emails that were leaked."
We'll have to leave it there.
OPEN THREAD